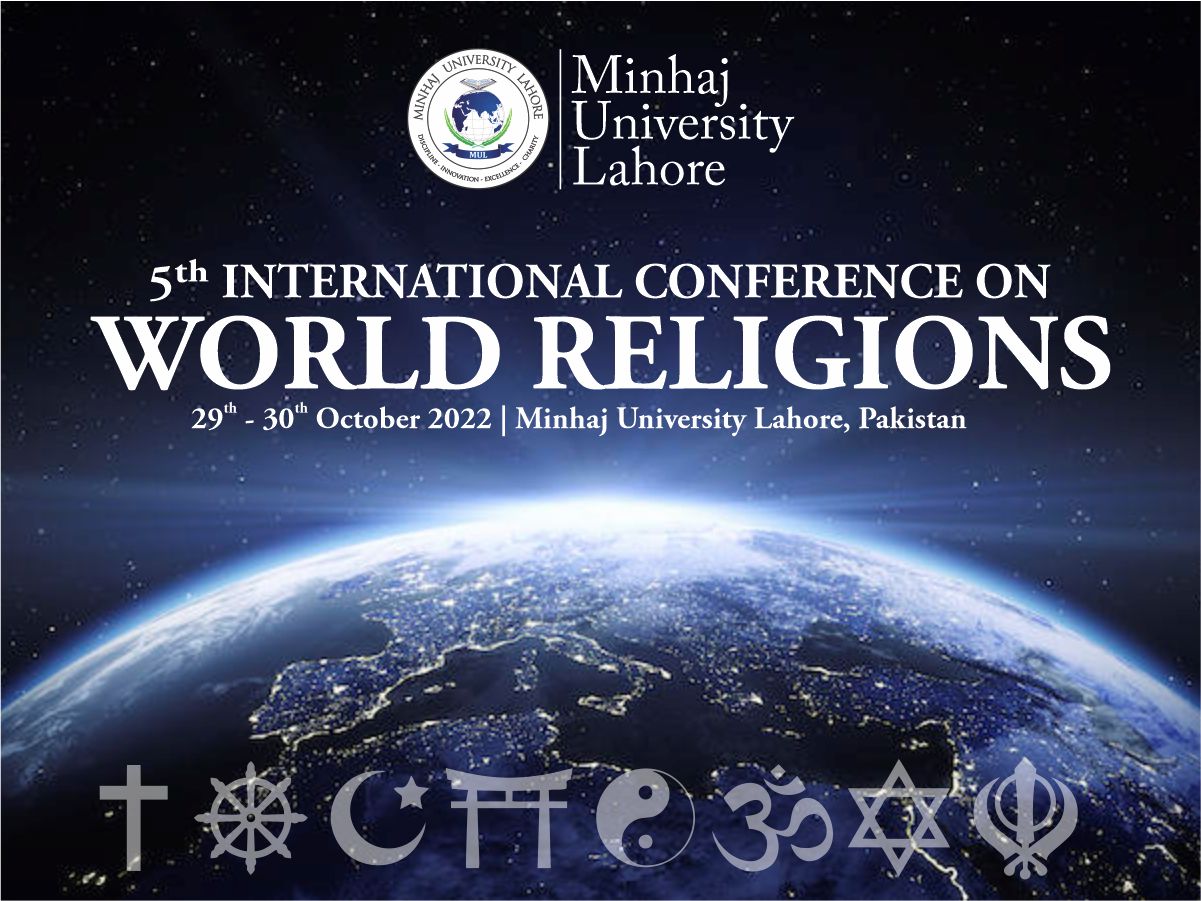 5th International Conference on World Religions
Introduction:
The 5th International Conference on World Religion 2022 (ICWR-5th) held under the auspices of Minhaj University Lahore was a momentous event with the theme "Exploring Religious Differences and Rediscovering Paths towards Interreligious Dialogue." The conference, a key component of the ARC project titled "Interreligious Relations between Muslims and People of Other Faiths," aimed to meet essential criteria set forth by the project, fostering scholarly perspectives and insights on interreligious interactions.

Diverse Participation and Notable Attendees:
The multicultural and religiously diversified conference witnessed the participation of scholars and religious leaders from Australia, Scotland, Sri Lanka, India, the United Kingdom, America, and Europe. Among the notable attendees were revered religious leaders, including Rev. Prof. Miriswaththe Wimalagnana Thero from the Buddhist community in Sri Lanka, Dr. Sardar Giyani Harpreet Singh from the Sikh community at the revered Golden Temple in India, and esteemed Muslim thought leader Prof. Dr. Abdullah Saeed from the University of Melbourne, Australia.


Themes Explored and Discussions Conducted:
The conference comprised four technical sessions, four-panel discussions, and five keynote addresses, addressing critical issues such as blasphemy, islamophobia, religious inclusivity and exclusivity, religious conservatism and stagnation, and religious extremism. The diverse assembly of religious leaders provided valuable insights and perspectives, facilitating productive discussions on fostering interreligious dialogue and mutual understanding.

Scholarly Perspectives from the Muslim Community in Pakistan:
The conference saw active participation from prominent scholars representing major schools of thought within the Muslim community in Pakistan, including Sunni Brelvi, Sunni Sufi, Shia, Ahle-Hadith, and Deoband sects. These scholars emphasized the need for ijtihad (independent legal reasoning) and analogical reasoning in interpreting Islamic principles, adapting to evolving global circumstances, and addressing interfaith and sectarian issues. They stressed the collective responsibility of religious leaders to reassess traditional viewpoints for the benefit of the new generation of Muslims worldwide.

Impact and Significance:
The conference proved highly significant, offering a platform for participants to engage with scholars, writers, and influential thinkers. It promoted understanding, tolerance, and interreligious harmony, contributing to the ongoing efforts of the ARC project. Participants expressed gratitude for the opportunity to interact with international scholars, furthering their knowledge and awareness of peace and interfaith tolerance.

Joint Declaration and Future Endeavors:
The joint declaration of the 5th World Religions Conference emphasized the importance of interreligious dialogue and encouraged higher education institutions to continue organizing such conferences. The conference proposed the establishment of a "Religious Diversity Day" in Pakistan, celebrating religious diversity and interfaith harmony with events, conferences, and seminars aimed at bringing believers of different religions closer together.

Conclusion:
The 5th International Conference on World Religion 2022 was a landmark event that fostered interreligious dialogue, promoted understanding, and celebrated religious diversity. The active engagement of scholars and religious leaders from various backgrounds enriched the discussions. It paved the way for future endeavors in promoting harmonious and stable socio-religious relations for young minds. The conference's impact and the proposal for a Religious Diversity Day exemplify Pakistan's commitment to interfaith harmony and inspire other countries to follow worldwide.